Advanced Cardiac Life Support for the Experienced Provider (ACLS-EP)
Clinical Training Center
Department of Emergency Medicine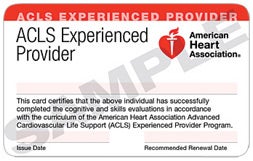 The American Heart Association's ACLS for Experienced Provider Course is a dynamic program designed to challenge and expand the knowledge base of experienced providers.
The goal of the ACLS EP Course is to improve outcomes in complex cardiovascular, respiratory and other (eg, metabolic, toxicologic) emergencies by expanding on core ACLS guidelines and encouraging critical thinking and decision making strategies. Through instruction and active participation in case-based scenarios, learners enhance their skills in the differential diagnosis and treatment of pre-arrest, arrest and post-arrest patients.
ACLS-EP has been updated to reflect science from the following:
2015 AHA Guidelines for CPR and ECC
2013 American College of Cardiology Foundation (ACCF)/AHA Guidelines for the Management of ST-Elevation Myocardial Infarction
2012 ACCF/AHA Focused Update of the Guideline for the Management of Patients With Unstable Angina/Non–ST-Elevation Myocardial Infarction
Target Audience: MDs, PAs, RNs, NPs, Paramedics, etc… who are currently certified in ACLS, experienced in a critical care environment, and desire to expand their skills.
The course is approximately 8 hours, and there is an online prerequisite that must be completed prior to the classroom session.
Important note about textbooks
The American Heart Association requires all students to have a current provider manual available to them "before, during and after" the certification program. In our experience, students that have the book prior to class, and take the online pre-course assessment are able to participate more fully in the class, and score better in the practical and written exams.
Provider manuals are available for purchase with your online registration, can be purchased at our office, or are available the day of class.