Basic Life Support Provider (BLS)
Clinical Training Center
Department of Emergency Medicine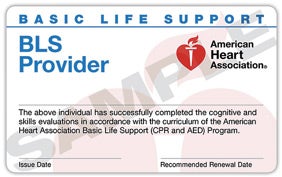 The BLS course teaches both single-rescuer and team basic life support skills for application in both prehospital and in-facility environments, with a focus on High-Quality CPR and team dynamics.
BLS certification can be earned 2 ways:
Option 1: Blended Learning
Combines the flexibility of online training with in person skills practice and testing.
Step 1 - Student completes the HeartCode® BLS online program:
Through a variety of eLearning assets such as dramatizations, eSimulations, animations, self-directed learning, and interactive activities, this course teaches students BLS knowledge and skills. (Time varies~ 1-2 hours)
Step 2 - The student completes a hands on skills session with an instructor to complete their certification. (2 hours)
---
Option 2: Traditional Instructor Lead Class
The student learns the skills of Basic Life Support thru video, discussion and hands-on practice. (4 Hour Class)
Important notes
Recertification
The American Heart Association no longer offers a separate BLS recertification class - Evidence has shown that the more time that a student spends in manikin practice, the better the outcome when performing CPR under clinical conditions.
Textbooks
The American Heart Association requires all students to have a current provider manual available to them "before, during and after" the certification program. In our experience, students that have the book prior to class, and take the online pre-course assessment are able to participate more fully in the class, and score better in the practical and written exams.
Provider manuals are available for purchase with your online registration, can be purchased at our office, or are available the day of class.