HeartSaver® Programs - CPR-AED
Clinical Training Center
Department of Emergency Medicine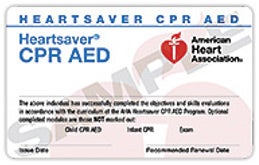 Heartsaver CPR/AED/First Aid classes are geared for the lay person who may encounter an emergency in their work or home life.
These classes are generally taught to/in:
Child Care Centers
Teachers in K-12 Schools
University students and staff
Restaurant employees
Coaches in educational and youth leagues
Security Guards
Parents and Families
Contact the CTC and we will help you select the proper class for your needs.
Depending on the class chosen, the content can includes:
CPR & AED use
Rescue Breathing
Protecting yourself as a rescuer
Use of an Automatic External Defibrillator
First Aid
Blood borne Pathogens
Contact Hank Fackovec for further information, scheduling and pricing
Important Note
The American Heart Association requires all students to have a current provider manual available to them "before, during and after" the certification program. In our experience, students that have the book prior to class, and take the online pre-course assessment are able to participate more fully in the class, and score better in the practical and written exams.
Provider manuals are available for purchase with your online registration, can be purchased at our office, or are available the day of class.