Breastfeeding
BMC is committed to promoting and supporting breastfeeding and is proud to be a Baby-Friendly hospital. Families have access to prenatal breastfeeding information, breastfeeding classes, lactation consultants, breastfeeding rooms (for both parents and staff), peer-counseling support groups, and a telephone support line, 617.414.MILK.
Learn about Breastfeeding before Baby is Born
Childbirth Education classes at BMC is a great way to learn about breastfeeding in addition to learning about what to expect during labor, birth, and taking care of a new baby.
Support While Staying at BMC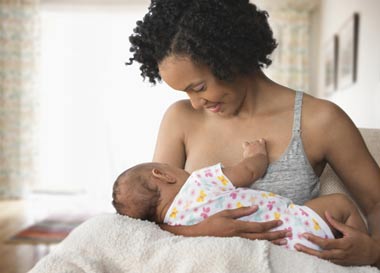 Maternity staff are capable and qualified to assist and support moms who are breastfeeding. International Board Certified Lactation Consultants (IBCLC) are available to:
provide patients with information
answer questions
offer one-on-one assistance to patients who would like more help
They are available every day for patients in the Women & Infant Center's Mother-Baby Unit, NICU, Pediatric Inpatient Unit, Pediatric Primary Care Clinic, and the Adolescent Center.
Outpatient/Support After Leaving BMC with New Baby
Mothers of babies who are seen in the BMC outpatient clinic can call 617.414.MILK (6455) for non-urgent breastfeeding advice. If you are concerned about the health of yourself or your infant, please call your doctor.
If you are:
Pregnant and interested in breastfeeding
Already breastfeeding and want to meet other moms
Need answers to your breastfeeding questions
Then, get help with breastfeeding at one of the Boston Baby Cafés.
As a new mom, breastfeeding can be hard. The Boston Baby Cafés are FREE drop-in sessions offering breastfeeding support from trained lactation professionals and information for pregnant and breastfeeding mothers in the community. Join us in a relaxed, informal, and safe group environment. Boston Baby Cafés are presented in partnership with the Vital Village Breastfeeding Coalition.
Light snacks will be served. No appointment or registration needed. Partners and young siblings are welcome!
Click here to see the schedule of Boston/Greater Boston Baby Cafés and breastfeeding support groups.
Pumping Rooms
The breastfeeding/pumping rooms provide patients and staff space to breastfeed in private and are equipped with electric breast pumps.
For Teens
BMC's Teen and Tot Program also offers a class specifically geared towards adolescent parents-to-be.
Helpful Resources