Food Demonstration Kitchen
Welcome to the Demonstration Kitchen at BMC!
As our nutrition services are top-quality, this is a unique element allowing the Boston Medical Center community to come in and view first-hand how to prepare the foods that they love in a manner that coincides with a healthy lifestyle. Simple, cost-effective recipes are demonstrated while disease and condition specific nutrition education is implemented for weight management, diabetics, cardiac rehab patients, cancer survivors, as well classes for pediatric patients and their families, among others. Participants can actually smell and taste the food while learning beneficial nutrition practices. To our knowledge, this is the only facility in the nation that utilizes a demonstration kitchen to promote nutrition on hospital grounds to patients.
Patients can come to the Demonstration Kitchen and learn how to cook healthy meals as well as how to utilize the foods that come from the Preventive Food Pantry. In fact, the bulk of the food used in the Demonstration Kitchen comes directly from the Food Pantry.
Each class begins with a nutrition education piece for the specific patient group. Then two to three recipes that go along with the nutrition lesson are demonstrated and tasted. Participants have the chance to assist in the demonstration and engage in the topic discussion. Recipes are always made available.
Patients do not need a referral to attend classes at the Demonstration Kitchen. However, space is limited so it is suggested that you either call the Demonstration Kitchen or let your provider know that you would like to attend a class.
To attend a class you must be a BMC patient or staff member. Please check the class schedules and then call to reserve a spot as space is limited. If the City of Boston declares a "Weather Emergency" classes will be canceled and rescheduled if possible. Call Tracey Burg, Registered Dietitian and Chef, at 617-414-3840 with any questions concerning in the BMC Demo Kitchen.
Contact Us
Hours: Monday - Friday, 10:00 AM to 4:00 PM
Call: 617.414.3840

Boston Medical Center
Yawkey Center
2nd Floor, Cafeteria
850 Harrison Ave.
Boston, MA 02118
Schedule
Register
Class Descriptions
Lunchtime Demos
Stop by during a lunch or dinner break for a quick, 25-minute informative nutrition lecture and food demonstration.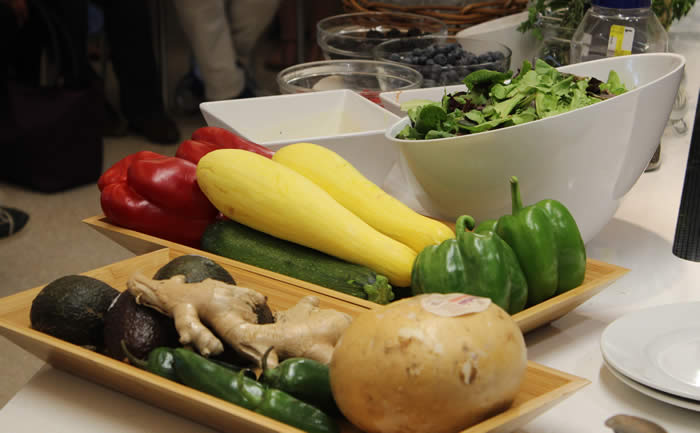 4 for $10
Healthy cooking class for people on a budget. Learn how to prepare a meal for a family of four for only $10. Easy, quick and inexpensive!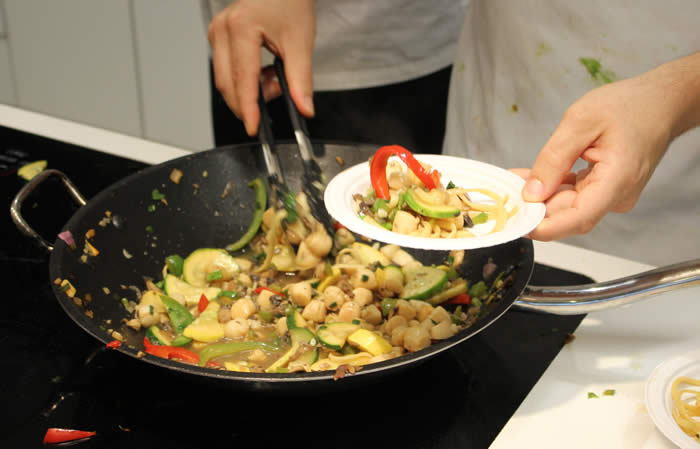 Cooking Skills 101
Whether you are a novice or proficient cook this class teaches basic skills that will help you navigate the kitchen with ease and speed. From the prefect diced onion to homemade pasta, you can build the confidence to make anything!
Guest Programming
Each month the Demo Kitchen will open its glass wall to invite guest chefs, and food enthusiasts to present a culinary demonstration.
Family Fun with Food
Bring the kids to the Demo Kitchen and learn how to prepare healthy meals the whole family will love.
Bariatric Weight Loss Surgery Prep
Before undergoing weight-loss surgery you want to be ready. Learn about the 5 diet stages for weight-loss surgery and meet others considering surgery. Sponsored by the BMC Bariatric Weight-Loss Surgery Team.
Bariatric Food for Life
Learn how to maintain your weight loss after bariatric weight loss surgery by preparing healthy meals and tips on how to manage the new you.
Cancer Survivors!
Class focuses on nutrition to help someone during treatment and recovery to feel better, maintain their energy, recover more quickly, and stay stronger.
Healthy Hearts
Discover ways to cut the fat and lower salt without sacrificing taste or spending all day in the kitchen.
Diabetic Cooking Essentials
Eating healthful meals is an essential part of managing diabetes. Learn how to prepare delicious "diabetic-friendly" meals for yourself or a loved one with diabetes.
Healthy Cooking for People with Disabilities
Patients and caregivers learn how to cook using specialized cooking tools and techniques.
Mattapan Adult Day Health Program
On-site class at BMC's Margret H. Shea Adult Day Health Program provides support for frail elderly and disabled adults.
Pediatric Super Snack Station
Children and their caretakers get an opportunity to make a healthy snack while waiting for their doctor visit.
SNAAC (Student Nutrition Awareness and Action Council)
Founded in 2009 to give Boston University medical students an understanding of culinary medicine through a variety of education and extracurricular projects. SNAAC's goal is to provide medical students with the awareness that nutrition impacts health status.
SNAP! Healthy Home Cooking
Learn the skills to be self-sufficient in the kitchen using nutritional, budget-friendly ingredients.
SUPER Kids and SUPER Teens
Kids, teens and their families are encouraged to Shape UP and Eat Right (SUPER) in this interactive cooking class. The class is part of a medical research project sponsored by the BMC Endocrinology, Nutrition and Weight Loss Management Department and Pediatric Cardiology Department Fit4You Program.
Weight Management
Maintain weight loss goals by preparing healthy meals that are delicious and satisfying using whole grains, fruits, vegetables, and lean protein.
Boston Medical Center 2012 James W. Varnum Award Recipient
BMC's Food Pantry and Demonstration Kitchen is the proud recipient of the 2012 James W. Varnum National Quality Health Care Award, established by the Trustees of Dartmouth-Hitchcock to recognize an outstanding national leader in health care quality improvement initiatives. Read full story
Beef
Beverages
Breads and Quick Breads
Chicken and Turkey
Desserts
Dressings and Condiments
Eggs
Fruits
Grains, Rice, and Pasta
Microwave Recipes
Nuts and Seeds
Pork
Sauces
Seafood
Soups and Stews
Tofu/Soy
Vegetables
Vegetarian
Weight Loss