Request an appointment
Request an appointment
New Patients
We're glad you've chosen BMC for your care! Please call the department you wish to make an appointment with to get started. Learn more about coming to BMC.
If you are a new patient and need an appointment, please contact us at the phone number below.
617.638.7490
Refer a patient
Refer a patient
Call our department to schedule a referral appointment
617.638.7490
617.638.7490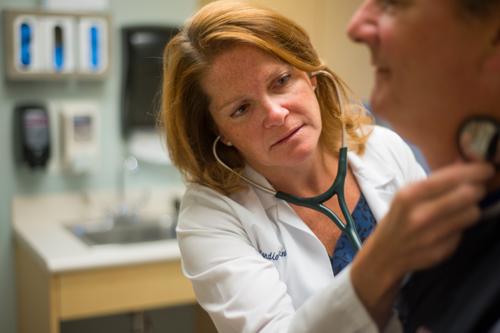 The Cardiovascular Center at Boston Medical Center offers state-of-the-art diagnostic and treatment services for a full range of cardiac diseases and conditions, with expertise in interventional cardiology, coronary artery disease, cardiomyopathy (heart failure), arrhythmia, non-invasive imaging and preventive cardiology. The Center's multidisciplinary team is committed to providing clinical excellence, innovation and compassionate patient care.
We are nationally recognized for our interventional procedures, including balloon angioplasty and stents, but we know that the best medicine is preventive medicine. Thus, we offer a variety of medically supervised exercise and lifestyle-modification programs to help people prone to heart disease lower their risk through physical activity and nutritional counseling. These programs include the Cardiovascular Risk Reduction and Rehabilitation Program, the Exercise Training Consultation Program, the Lipid Program, and the Smoking Cessation Program.
The Vascular Center at Boston Medical Center offers treatment for a variety of peripheral vascular diseases, venous diseases, sasospastic diseases and lymphedema.
Contact Us
Diagnostics and Tests
The Non-Invasive Cardiovascular Laboratories at Boston Medical Center offer state-of-the-art diagnostic testing for heart and vascular conditions such as arrhythmias, heart failure, coronary artery disease, carotid artery disease, congestive heart failure, hypertension, and more. Offered testing include Stress Testing, Echocardiography, Vascular Diagnostic Testing, and Advanced Cardiovascular Imaging. Each area is supervised by cardiovascular experts and staffed by highly skilled exercise physiologists, sonographers and technicians.
Echocardiography
Echocardiography, also called a cardiac echo or echo, is a sonogram of the heart. Echocardiography uses two-dimensional, three-dimensional, and Doppler ultrasound to create images of the heart.
Stress Test
A stress test is used to gain more information about how your heart functions during exercise. Your physician will monitor your heartbeat and blood flow as you walk on a treadmill, and will then be able to diagnose any problems as well as plan treatment.
Vascular Diagnostic Testing
Vascular diagnostic testing is the processes of looking at a person's blood flow.  Oxygenated blood flows from the heart to the body through arteries, and once deoxygenated, is returned to the heart by veins.  Arteries and veins make up a person's venous, or vascular testing.
Advanced Cardiac Imaging
BMC's Advanced Cardiac Imaging Program (ACIP) is a collaboration between the Section of Cardiovascular Medicine and the Department of Radiology. Working together, physicians bring expertise in cardiovascular patient care as well as in-depth knowledge of imaging techniques.
Cardiac MRI
Cardiac magnetic resonance imaging (MRI) uses a powerful magnetic field, radio waves and a computer to create a clear and concise image of a patient's heart in motion, without using x-ray radiation. It is used to detect or monitor heart problems such as infections or inflammatory conditions, coronary artery disease, congenital heart disease, or to evaluate the effects of surgery. An MRI is also commonly used to clarify unclear findings from echocardiography.
Cardiac CT
Cardiac computed tomography (Cardiac CT) is an x-ray test that physicians use to take clear and detailed pictures of the heart. Cardiac CT is used to help detect or evaluate problems such as coronary heart disease, calcium buildup, pulmonary embolism, aneurysms, and dissections. It is sometimes used in patients who obtained unclear results from a previous stress test. Cardiac CT will likely not be used as a screening test in patients with no symptoms because of long-term radiation exposure concerns and lack of proven benefit.
Cardiac PET
Cardiac positron emission tomography (PET) is a nuclear imaging test that uses radioactive tracers to produce detailed pictures of the heart. PET scans are typically used to look for poor blood flow in the heart, to assess damage due to heart attack, or to diagnose coronary artery disease. A PET scan is also commonly used to clarify unclear findings from other heart tests, such as echocardiography or stress test. Unlike MRI and CT, a PET scan gives more information about how organs and tissues are working.
Residency and Fellowship Information
The Cardiovascular Center at Boston Medical Center is dedicated to the pursuit of excellence in patient care, teaching, and research. BMC is committed to serving patients within the community and region through service, quality, and innovation. The education of medical students and residents is an integral part of daily activity at BMC. The faculty are dedicated to the pursuit of new knowledge and discovery through healthcare related research from the most basic to the most applied. BMC is keenly aware that the ultimate fruits of our excellence in caring, teaching, and discovery is the betterment of mankind.
Current Cardiology Fellows