Request an appointment
Request an appointment
New Patients
We're glad you've chosen BMC for your care! Please call the department you wish to make an appointment with to get started. Learn more about coming to BMC.
If you are a new patient and need an appointment, please contact us at the phone number below.
617.358.8300
Refer a patient
Refer a patient
Call our department to schedule a referral appointment
617.358.8300
617.358.8300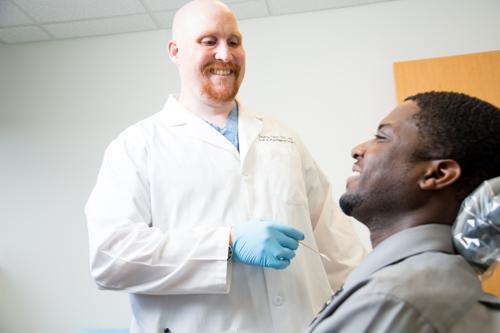 Boston University Dentistry
Patients may schedule appointments for dental care through the Boston University Henry M. Goldman School of Dental Medicine. Emphasizing both preventive and restorative dentistry, our experienced dentists, hygienists, and students provide a wide range of services for patients, including:
General dentistry 
Oral diagnosis and radiology
Porcelain veneers
Tooth-colored fillings 
Implant dentistry
Orthodontics
Crowns, bridges, and removable dentures
For more information or to book an appointment, click here.