Request an appointment
Request an appointment
New Patients
We're glad you've chosen BMC for your care! Please call the department you wish to make an appointment with to get started. Learn more about coming to BMC.
If you are a new patient and need an appointment, please contact us at the phone number below.
617.638.8456
Refer a patient
Refer a patient
Call our department to schedule a referral appointment
617.638.8456
617.638.8456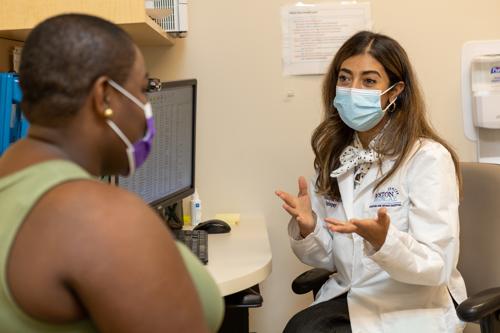 The Neurology Department offers a full spectrum of neurological care, including examination, diagnostic evaluation, consultation, treatment, comprehensive follow-up, and rehabilitation recommendations for disorders of the nervous system. Patients receive the latest in therapies and treatments based on research that is ongoing at BMC. We have advanced clinical expertise in all neurology sub-specialties.
Contact Us
Additional Information
Global Health Initiative
The Department of Neurology's Global Health Initiative provides opportunities for residents and attending physicians to provide neurological care in developing nations. The Initiative includes a Global Health Track for residents with formal presentations on global health neurology and opportunities in field experience and research.
Department News
David M. Greer, MD, MA, has been appointed chair of the Department of Neurology at BU School of Medicine and chief of neurology at Boston Medical Center.
Dr. Perloff and Dr. Zhu discuss available treatment options for headaches, when to worry if it is something more serious and that if they begin to have a negative impact on your every day life, that…
Research Overview
The Department of Neurology at Boston Medical Center conducts world-class basic science, translational, and clinical research. Physicians and scientists collaborate via nationally and locally funded research programs to develop the latest in neurological diagnostics and therapies.
Residency and Fellowship Information
Neurology Education
The Department of Neurology at Boston Medical Center is affiliated with Boston University School of Medicine (BUSM) and has a long and distinguished history in both the academic and clinical arenas. To learn about our fellowship programs, please visit the Neurology Subspecialty Fellowships website.