Request an appointment
Request an appointment
New Patients
We're glad you've chosen BMC for your care! Please call the department you wish to make an appointment with to get started. Learn more about coming to BMC.
If you are a new patient and need an appointment, please contact us at the phone number below.
617.638.8430
Refer a patient
Refer a patient
Call our department to schedule a referral appointment
617.638.8430
617.638.8430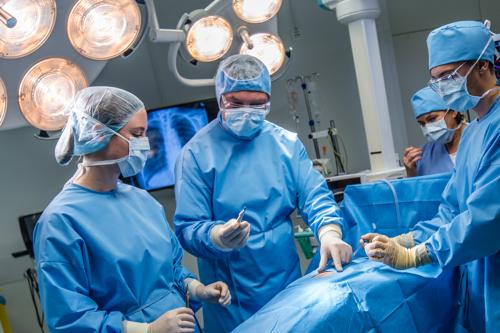 COVID-19 Information for Transplant Patients
The Kidney Transplant Program at Boston Medical Center (BMC) is fully committed to providing every patient with exceptional care, without exception. Since our first transplant in 1977, our program has evolved into a high-quality service sought out by local, regional, national and international patients and their families. 
Our experienced transplant surgeons are supported by a multidisciplinary clinical team devoted to delivering the best care to patients, donors and their families. The team carefully guides patients and loved ones through the steps of giving and receiving a kidney transplant in a compassionate, understanding and pressure-free environment. Additionally, our strong relationship with local dialysis centers and nephrologists ensures we receive all of the necessary information to provide the best possible outcome.
Why Choose BMC's Kidney Transplant Program?
Our accomplished transplant surgeons have performed over 900 kidney transplants, and have more than 35 years of combined transplant experience.
Our living kidney donor program has completed 300 living donor transplants since 1987, a number that continues to grow every year.
Our transplant nurse coordinators have a combined 33 years of experience, and expertly guide patients and families through any clinical and social situation.
BMC's extensive social services network provides patients and families with the tools and education needed to manage the transplant process, both before and after surgery.
Our clinical pharmacy team is committed to making sure medications are received promptly and patients understand when and how to take them. Continuing improvement projects have improved patient medication compliance, which has led to safer and more effective care.
Our financial services team works closely with patients and their families to maximize insurance coverage for transplant and to make sure the financial components of the transplant process are clearly explained and taken care of, every time.
Contact Us
Programs and Services
Boston Medical Center has a well-established Living Donor Program and has completed more than 300 living donor kidney transplants.
Patient Resources
Kidney transplant education manuals and helpful links
After being affected by her amyloidosis, BMC patient Mary Jane was told that she would need a new kidney. Knowing that it can be very difficult to find a kidney donor, and one with a perfect kidney match, her husband, Jerry, went to Facebook. He made an Uncle Sam–like poster, reading "If you are O+ and willing to save my life, please send me a message!" and posted it on as many public Facebook pages as he could. After hearing back from a few sources, they found Michelle, who turned out to live right down the street from Mary Jane and Jerry.